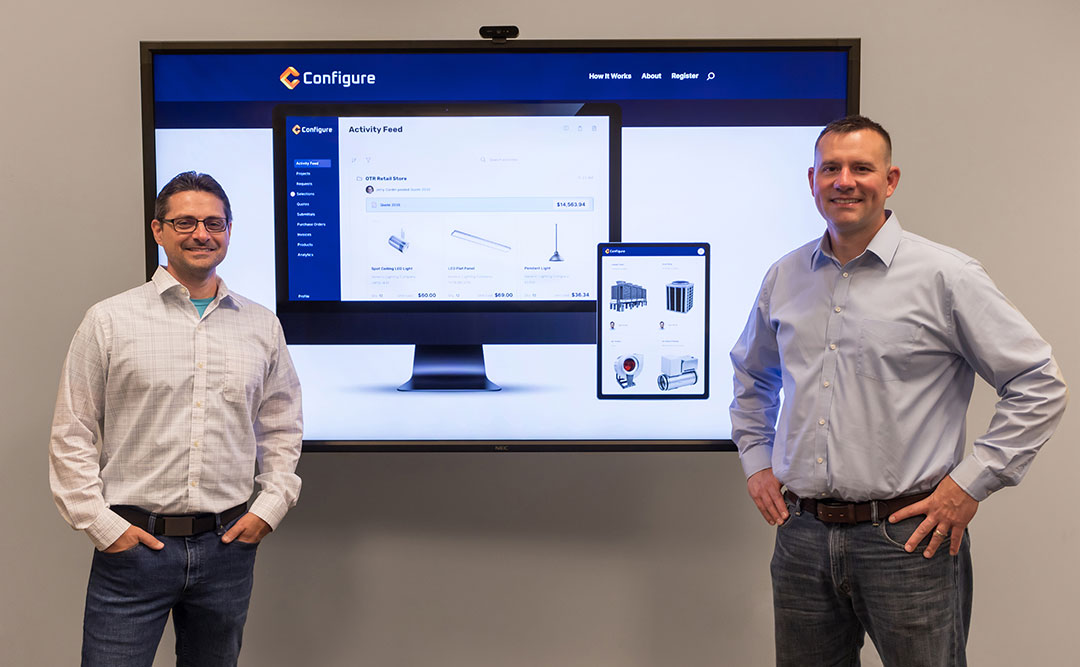 Configure Launches Online Construction Marketplace with Lead Investor TitletownTech
Configure, the construction marketplace, officially launched and announced its lead investor and initial customers.
Founded by Michael Albanese and Jeff Leuderalbert while they were principals of Kohrs Lonnemann Heil Engineers, Inc. (KLH Engineers), a prominent northern Kentucky engineering firm, Configure digitizes supply and empowers designers and contractors to easily specify, compare and purchase engineered to order products with connected suppliers. The ability for contractors to sort, filter, select, compare, bid and purchase products has never existed in a digital platform, until now.
Configure raised $2 million in a seed round led by TitletownTech, a Wisconsin-based venture capital fund formed out of a partnership between the Green Bay Packers and Microsoft. The company will deploy its new capital to expand its software technology and make additional product development hires.
"Configure is introducing efficiency into the construction management process by providing the first marketplace that connects contractors, suppliers and manufacturers," said Configure Co-Founder Michael Albanese. "As engineers, Jeff and I saw the disjointed efforts of various stakeholders across the construction management process and knew there had to be a more collaborative solution to bringing construction projects to life. In response, we've built a strong platform and ecosystem of partner and customer relationships, and we're excited to drive this mission forward at scale."
Some of Configure's current customers include Tweet/Garot Mechanical, Green Bay, Wisconsin; Silicon Valley Mechanical, San Jose, California; and Peck Hannaford + Briggs, Cincinnati, Ohio. 
"Creating more collaboration and transparency in the construction space is critical for the industry," said TitletownTech Managing Director Jill Enos. "We're thrilled to back the Configure team as their work will dramatically improve the current environment for construction stakeholders."
"Configure solves a massive problem in the construction industry and is poised to disrupt the way that contractors procure equipment," said Tweet/Garot CEO Christopher Howald. "We are excited to help Configure build its platform as an early adopter, as it will give our customers more information, increased efficiency, and better pricing."
To register for early access to the Configure platform, visit ConfigureNow.com/register.
About Configure
Configure is the construction marketplace that connects manufacturers, suppliers and contractors. Built for the unique needs of the construction sector, Configure matches products to project scope for a seamless digital shopping experience across a project lifecycle.
About TitletownTech
Formed out of a partnership between the Green Bay Packers and Microsoft, TitletownTech builds and invests in early-stage, high-growth ventures. The organization leverages the region's strengths targeting innovation across five key verticals: sports, media, and entertainment; digital health; agriculture, water & environment; manufacturing & construction tech; and supply chain technology.